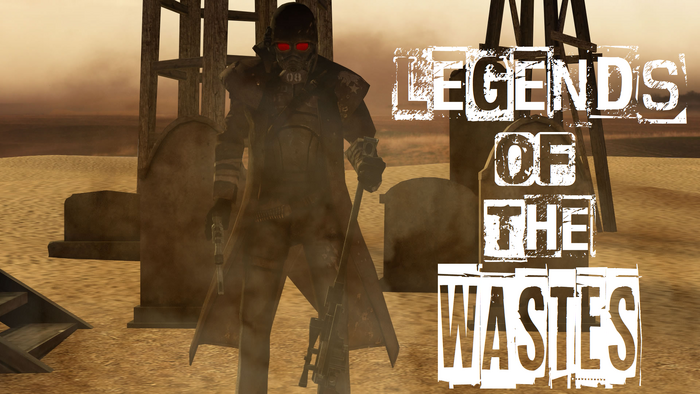 Shrike held Josey out over the ledge of the Gray, over a three story drop and death on the concrete below. She was strong, much stronger than he was. Faster. Smarter. How many men had Josey killed? Hundreds? Thousands? Shrike had killed more. And was better at it.
"What matters is that you understand why. Purpose, Josey. Yours is Vegas. Mine was my brother. You killed him. It's only fair you get the same treatment." Shrike was saying. "But before I kill Vegas, I still need to finish with you."
"And after that? What'll you do? Walk away from it all?" He asked.
Shrike shook head. "No. There are others like you. Legends of the wastes who think themselves superior to the rest of us. I'll find them, kill them too. No one deserves the kind of power you people wield."
---
My name is Agent Miller. You do not know me. But I know you. I am Agent for the Office of Science and Industry, an intelligence department within the New California Republic. To some of you, those names will be meaningless. It is unimportant whether you recognize them or not. I will tell you what you need to know.




There is a woman named Shrike. You may have heard of her. She is unstable, dangerous, and, so far as we know it, a killer without equal. She is coming for you. She will stop at nothing to end your life. If you are receiving this message it is because Shrike believes the same thing I do: that you are a person of extraordinary talent or popular renown. This is why you are her target.

You are not without resources however, or friends. You will tune to the following frequency: 550.97GHz L. What follows will confuse and disorient you. But believe me when I say that the alternative that Shrike offers is much, much worse…
You received this message moments ago, either through your Pip-boy, preferred communications device, maybe even by courier; however you usually get your notices-of-impending-doom.
Deciding that it couldn't hurt to at least tune in to the frequency Miller mentioned, you went to the nearest radio, be it on your arm or elsewhere, and tuned it to the frequency. It wasn't much later that you heard the propellers of a vertibird. Little do you know, but you just signed on to be a part of Miller's Coalition.
---
One week ago the rogue hitwoman known as "Shrike" attacked New Vegas, targeting its ruler, Josey Wales. She killed Wales' closest associates, with the exception of Craig Boone. Wales and Boone have been missing since Shrike's attack and Shrike herself has been in the wind, although there is rumor that in the time since she has continued her murder spree around the country. Working alongside Shrike are two men: Thomas Hamilton and Randall Clark, both notorious killers in their own right.
Shrike slowly advances her plan to kill those she has deemed necessary, regardless of the collateral damage inflicted. Meanwhile, those Shrike pursues prepare. Will a competent defense form against her in time or will Shrike achieve her goal of ending the Legends of the Wastes?
---
Rules:
1. The date is June 29, 2290 (Three years after the events of Fallout: Prophecy, four years after Godless America, immediately after Butcherbird). Your character can either start in one of two places: inside a warehouse they were just dropped off in or waiting to be picked up by Agent Miller.
2. You can be a Human, Ghoul, Supermutant, or Synth.
3. You must post a character card before posting. You can have as many characters as you want, provided that you can handle it.
4. Don't be OP (should speak for itself). VATS is disabled. Guns and gun wounds work like real life. You cannot survive three bullets to the head, et cetera. Armored characters be it metal or skin obviously have the edge.
5. You cannot kill (or control) other people's characters, without their consent. Same goes for amputations and maiming. Named NPCs cannot be directly controlled by the players, without the GM's permission, for story purposes.
6. Take the RP seriously, shit posting will get you banned. I don't care how bored you are or how many pets you've lost. Don't hijack the story and change its purpose, you're more than welcome to make your own RP doing that. Anyone who leaves (without a good reason) will not be allowed back in. This is to stop people from taking the RP hostage, by constantly leaving/threatening to leave.
7. Please use common sense when adding a character. The story relies upon the inherent threat Shrike presents. Do not make a character that Shrike would have no desire to kill (such as a bag merchant) or a character that Shrike would be incapable of killing. If your character can't be hurt by Shrike, doesn't care about Shrike, or isn't afraid of Shrike, then what the heck would they be doing here?
---
Character Card
Name:
Age:
Sex:
Race:
Appearance:
S. P. E. C. I. A. L. (Optional):
Tag Skills (Optional):
Perks&Traits (Optional):
Equipment:
Background: Keep in mind that your character's background is the reason they were contacted by Miller or Shrike is coming after them. Refer to rule #7.