In General
Galaxy News Radio or GNR is an active radio station broadcasting from the greater DC area in the Capital Wasteland. Once part of the national GNN network, this re-used broadcast station is now hosted by Three Dog. An easy going pacifist and altruist.
DJ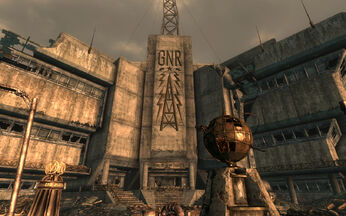 Three Dog is social, cool and especially live-and-let-live, which greatly contrasts with most things found in the Capital Wasteland, a highly radiated and wild part of the former United States. Still, the DJ believes in 'fighting the good fight' and does this by sending out fair news coverage and pacifist Public Service Announcements to anyone who cares to listen. The station he operates from is also where he generally lives. Inside he doesn't take up much space; he eats and sleeps in the only still in tact broadcasting room in the big, almost labyrinthine, remains of the bomb proof concrete building.
Fighting for the Underdog, and taking it easy, that's Three Dog.
Playlist
Here's a link to a playlist of all the songs in no particular order: Youtube Playlist
Allan Gray
Billie Holiday
Billy Munn
Bob Crosby
Cole Porter
Danny Kaye & The Andrews Sisters
Eddy Christiani & Frans Poptie
Ella Fitzgerald & The Ink Spots
Gerhard Trede
Ink Spots
Jack Shaindlin
Roy Brown
Sid Phillips
Tex Beneke